For all of those who were scheduled to celebrate First Communion this past April (2019), we have great news! We will begin celebrating First Communions at our Sunday Masses on Sunday, September 13th. We will be doing four at each Mass (English and Spanish), for a total of eight per week.
Please click the signup button below to choose your Sunday. This will be done on a first come, first serve basis. You may choose any Sunday between September 13th and December 20th for your child to celebrate his/her First Communion.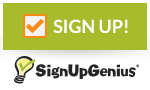 Each family will have one pew reserved for them. A pew can comfortably seat five to six adults plus one small child. Unfortunately, due to the current COVID-19 restrictions we cannot allow any additional guests than this.
Because it has been a while since many of those who were scheduled to celebrate First Communion last April have even had the opportunity to come to Mass, we will post a short video of how each First Communicant should receive Communion on our parish website.
A gentle reminder, this only for those children/youth who were scheduled to receive his/her First Communion last April (2019).
Please do not hesitate to contact Deacon John Walsh with any questions. – (910) 762-5491 x-114 or jwalsh@thestmaryparish.org